Von Maur has been providing a unique shopping experience to families throughout the Midwest for 135 years.
From humble and cozy beginnings as a 20- by 50-foot shop in Davenport, Iowa, the family-owned business has grown to include 26 stores in 11 states and a powerful online presence. Von Maur has built its business and reputation on a devotion to customers, creating an exceptional shopping experience by overstaffing its stores with expert associates, providing free gift wrapping and shipping year-round and offering an interest-free charge card.
Like any retailer, managing inventory is critical to managing profitability for Von Maur. And as the company expanded both its online and brick and mortar businesses, its existing budgeting and planning system was struggling to keep pace. So in early 2011, the Von Maur team began interviewing vendors to find a new solution for managing forecasting, replenishment and planning.
"We looked at three or four of the leading retail systems," described Joy Place, VP of Merchandising and a 15-year Von Maur veteran. "The Oracle Retail Suite just clicked with us. It had all of the functionality we were looking for and gave us a foundation from which we could grow. At the end of the day, the Oracle system best addressed all of our pain points. The Oracle team took their time too – they got to know us and that helped a lot."
SI Selection: One name kept coming up—Logic
With the Oracle Retail Suite selected, Von Maur then had to find a systems integrator – a choice they weren't too excited about making. "We were really hesitant to work with a third party systems integrator (SI)," explained Place. "It just seemed unusual to start a new relationship. It wasn't very comforting. So we had all of our flags up – it was a little scary and a little nerve racking."
After doing some reference calls with Oracle clients, one SI's name kept coming up: Logic. "We got so much positive feedback about them, that we sought them out for an interview," Place said. "We did interview one other SI, but we were focused on Logic. The majority of people we talked to had used them and other SIs in the past, and they all had glowing recommendations for Logic."
Better visibility for more accurate and timely budgets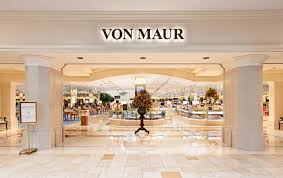 For Von Maur, the project's objectives boiled down to better visibility. Across divisions, across stores and across the entire business, Place and her team needed a better look into what was happening and why to create more accurate and more timely budgets.
As a result, Von Maur focused on RMS Foundation and Replenishment, RDF and MFP components of the Oracle Retail Suite, and Logic's charge was to adapt those solutions to Von Maur's way of working and connect them to Von Maur's homegrown retail management system.
"It's quite unusual for Oracle not to be the system of record," said Place, "but we felt strongly about preserving our core management system, and we were confident Logic was up to the task of both implementing the Oracle solutions and making the integration work."
Additionally, Von Maur set forth an aggressive timeline. "We started the project right after the Fourth of July, and we wanted to go-live right after the holidays," explained Place. "We knew seven months was tight, but we wanted to be ready for the upcoming year with the new system in place."
We're able to look at our business in a different way
Since the solution's deployment, Von Maur has seen the impact it was hoping for. "We're simply able to look at our business in a different way. We have better visibility into our basic stock. We see how things are trending by store, and we know we're carrying the right amount of stock at the right time," explained Place. "We assumed we were over-assorted in some areas, and now we know we were right. And we're able to make sure we're set with just what we need in every area, in every store, across all of our inventory."
As for the aggressive timeline, the team worked together and made it happen. "We met our seven-month goal, and throughout the entire project, we were either on schedule or ahead," said Place. Close collaboration, open communication and open minds were the driver of the project's success.
"There was a spirit of complete collaboration between our teams. We had the right decision makers from our team in the room all the time, so nothing got delayed, and Logic was always so open. They challenged our thinking and approaches and always were ready to figure out how to make things we wanted happen."
Working with Logic: A positive experience
While the system is live, Logic continues to provide ongoing support for the system – monitoring nightly batch processes and providing DBA support, so the Von Maur team can focus on their vision and getting the most out of the Oracle solution that's been implemented.
With the heavy lifting behind them, both the Logic and Von Maur teams look back on the project with pride. "It was just a really open, positive and enjoyable experience," Place said. "These projects are very intense – it takes a lot of brain power. And I think we all made it through things because we were open and, and we made it light. We got to know them really well, and they got to know us. There was huge respect on both sides. We're kind of sad that we won't be able to see some of them again."