Sunday, January 14–Tuesday, January 16, 2018 | New York City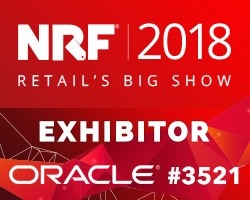 January is quickly approaching and we at Logic are looking forward to meeting with our customers and partners at NRF in New York. Find us in the Oracle booth #3521, or join us at one of our 3 events this year as we cover some big ideas on how to address top retail trends and challenges.
And don't forget about our annual Logic NRF wrap party on Tuesday night! We'll be celebrating in an all-new location in Midtown.
Learn more at logic-nrf-2018.eventbrite.com.
Monday, January 15, 2018
Lunch Session: How do you really know that your customers are happy with their omnichannel experience?
When: 12 pm
Where: Clyde Frazier's (just a few minutes walk from the Javits Center)
Learn more & Register
Tuesday, January 16, 2018
Lunch Session: How can you present a modern brand image when your POS hardware still has a floppy disk drive?
When: 12 pm
Where: Clyde Frazier's (just a few minutes walk from the Javits Center)
Learn more & Register
Logic 2018 NRF Wrap Party
When: 9pm – Bar Close
Where: Pig 'N' Whistle Times Square
Learn more & Register