There are big opportunities for retailers when moving core retail business applications to the cloud. By embracing change as "business as usual," your retail organization has the power to stop playing catch up and quickly take advantage of new, optimized business processes and procedures.
While it may be easy to emphasize embracing change as a critical step toward success, the ability to affect change in a practical way remains challenging for many retail leaders. At Logic, we can speak about the process of cloud migration from experience: Logic is actively implementing Oracle Retail Cloud Service (we're the first Oracle Partner to work with multiple Oracle Retail clients on their SaaS implementations.) As a result, we have some practical advice for retailers who are also looking to embark on a cloud journey.
To set yourself up for success, we recommend starting your journey by focusing on six key considerations. Taking a deliberate approach will offer a holistic view of change impacts to your organization's IT and business teams upfront and set a strong foundation to achieve buy-in from all involved.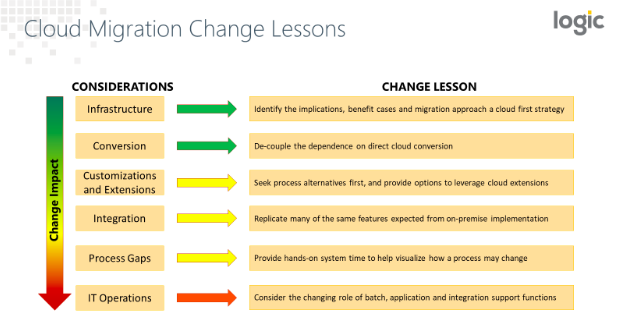 1. Infrastructure Considerations for Oracle Retail Cloud Service Migrations
We cannot say this enough: Detailed migration plans are necessary. You may not own the hardware, but someone still has to procure it and provision an environment. Make certain you know the who, when and how as part of your program planning to avoid unwelcome surprises. Setup and maintenance of a cloud environment is not very different than what retailers should expect from an on-premise implementation, however, not owning the hardware also means it's out of your direct control, so be sure to plan accordingly.
Lest one forget, cloud migrations often remain integrated to existing on-premise or hosted applications.  Understanding those impacts and the necessary hardware and software to enable those communications are equally important to your success as the cloud environment itself.
Successfully addressing infrastructure change does not stop with the migration plan. Diagram the future state enterprise infrastructure, know the partners required to support your business, and establish strong environment controls are ways to effectively manage the change at the start of the program.
2. Cloud Data Conversion and Migration
Mitigation of change impacts to data migration starts by having an end-to-end strategy for conversion approach, data cleansing, data validation, iteration, and a view of how cutover will occur. First, rather than attempt a direct cloud conversion in one big push, follow an iterative and controlled migration to the cloud instance. With this approach, your SI can begin conversion cycles early and work towards increasingly better, cleaner conversions. In this part of an upgrade, consider potential data gaps and how you will address those as part of the overall conversion strategy.
Second, consideration should be taken around the process of cutover for data migration well ahead of go-live. You do not want teams to be so focused on conversion approach and data quality only to reach the day of go-live and find the cutover solution does not align to the needs of the business.  
3. Accommodating Customizations and Extensions in the Cloud
In a cloud environment, customizations and extensions are limited to those which fit into available APIs, configurations, external bolt-ons, or native features of the application. Our experience delivering 'vanilla' Oracle Retail implementations, even before cloud made it a requirement, has shown that alternative processes are almost always feasible. It's essential that your SI forms a strong partnership with your business teams. Working together, they will develop process alternatives, and when appropriate, provide options to leverage extensions or external integrations aligned to the Oracle Retail Cloud Service strategy. In short, the business must understand from the very beginning that changes will be expected of them since code modifications are simply not possible in a cloud instance.
When extensions are required, think through the impact bolt-on solutions could have on costs which may not have been budgeted for, such as hardware costs, support staff requirements, or licensing requirements.
4. Connecting the Cloud: Integrations
Conventional wisdom gives the expectation that integrations do not pose a significant challenge as part of a cloud migration, yet our experience dictates otherwise. While the integrations within cloud application suites are streamlined, integrating a cloud-based system with on-premise or other cloud applications requires careful planning overall. The integration approach needs to balance existing architecture capabilities and tools with the demand on IT support operations and the increasing reliance on real-time or near real-time integrations.  
To facilitate this process, establish your guiding principles early to serve as your measuring stick when designing an approach. Do you require real-time data movement? Should the integration be primarily cloud based, hosted, or on-premise? Are there existing tools that could be leveraged? What type of monitoring is expected and at what level of granularity? Will there be few (batch) or many (bus) integrations? Ask the questions, document the principles the answers provide, formulate a strategy, and make a collective decision.
Above all else, enterprise integration solutions will often far outlive the applications for which they enable communication and, therefore, their change impact (or lack thereof) will be felt for some time.  Be thoughtful to your immediate need but mindful of the future.
5. What to Do When You Have Process Gaps
All retailers do things just a bit differently. A packaged software solution, such as Oracle Retail Cloud Service, streamlines the processes retailers have in common while accounting for unique, business-driving processes. The word you use to describe an entity from which you source products (supplier, vendor, or something else) is not a business driver; but the information you provide to these entities is. Or in some cases, there are product customizations or in-store experiences that your brand does differently. We have found that moving to the cloud exposes process gaps sooner because conversations are grounded in "what will be" rather than "what was." Collecting and knowing "as-is" is still important, but it's also critical to remember: we are designing for the future, whatever that may be.
6. Running in the Cloud: Software-as-a-Service and IT Operations
Retailers tend to select SaaS solutions because they are growing and do not have an IT staff in place already, or they have made the strategic decision to outsource specific elements of IT rather than retain it in-house. A cloud deployment does not have to mean headcount reduction (unless that is a retailer's goal) but it will mean changes to IT Operations. If a robust IT team is already in place to support legacy systems, individuals in that group will be redeployed to managing your cloud stack or towards other IT-related or strategic business initiatives.
It's very important that your cloud integration partner has sufficient understanding of the changing role of application, batch, and integration support functions to advise on what will be different in your future-state. Armed with this knowledge, you will be well-prepared to make important decisions regarding roles and team structure once your cloud deployment is complete.
Summary
Beyond IT considerations, retailers intuitively understand the need for process and operational changes when migrating to the cloud, but that does not diminish the challenges change brings. The same techniques for any vanilla implementation still apply: Listen and help the business team visualize how their processes will change through conceptual business process conversations and hands-on system time. Your organization will require the experience and maturity to point out, communicate and manage through the operational changes that are going to occur.
Alana Feigenbaum leads Logic's change management service and has experience driving transformational results through developing a practical change management roadmap. She partnered with Joshua Anderson, Core Retail Practice Director to capture these lessons learned. Contact us if you want to know more about our retail cloud experience, and how we will help you manage it.